History of Byron
Byron was divided from the town of Bergen on April 4, 1820, and was named for Lord Byron. The town of Byron in the early days was called Byron Center.
South Byron Four Corners, looking south,
before the construction of the railroad overpass.

Mudd City Pond
Bennet Mill, second in Byron.
South Byron, originally called Brusselville, was named for an early settler, Elijah Shumway, who had a "brussel head." North Byron was called Pumpkin Hill after a hotel and tavern sign in the shape and color of a pumpkin.
Southwest corner of main intersection in Byron, showing Arrowhead Store,
the gas station, post office and general store. Today it is the site of the ArrowMart.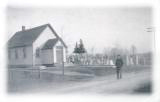 The Byron Museum is located next to the Byron Center Cemetery at 6407 Townline Road, Byron, NY 14422. Our Museum is open Sundays 2-4 p.m., Memorial Day through Labor Day. Other hours by appointment at the convenience of the Historians. The museum is located in the former German Lutheran Church, pictured above.
Bob & Beth Wilson - Historians
6451 Mill Pond Rd.
Byron, New York 14422-9758
historian@byronny.com
phone: 585-409-5991
The Hiscock Site in Byron is an archeological excavation site where many mastodon and paleo-Indian artifacts have been unearthed. The site is named for the Hiscock family who, in 1959, accidentally dug up a large tusk while using a backhoe to deepen a pond. The site is now owned by the Buffalo Museum of Science and many specimens have been discovered with the help of hundreds of volunteers, since analysis began in 1983. Dr. Richard Laub, Curator of Geology, headed the Byron Dig seen in the link below.
Click here to view photos & learn more about the Byron Dig.